The week's best TV: Graves, Goliath and American Housewife
Nick Nolte plays a US president, Billy Bob Thornton heads to Amazon and Inception becomes a TV show … kind of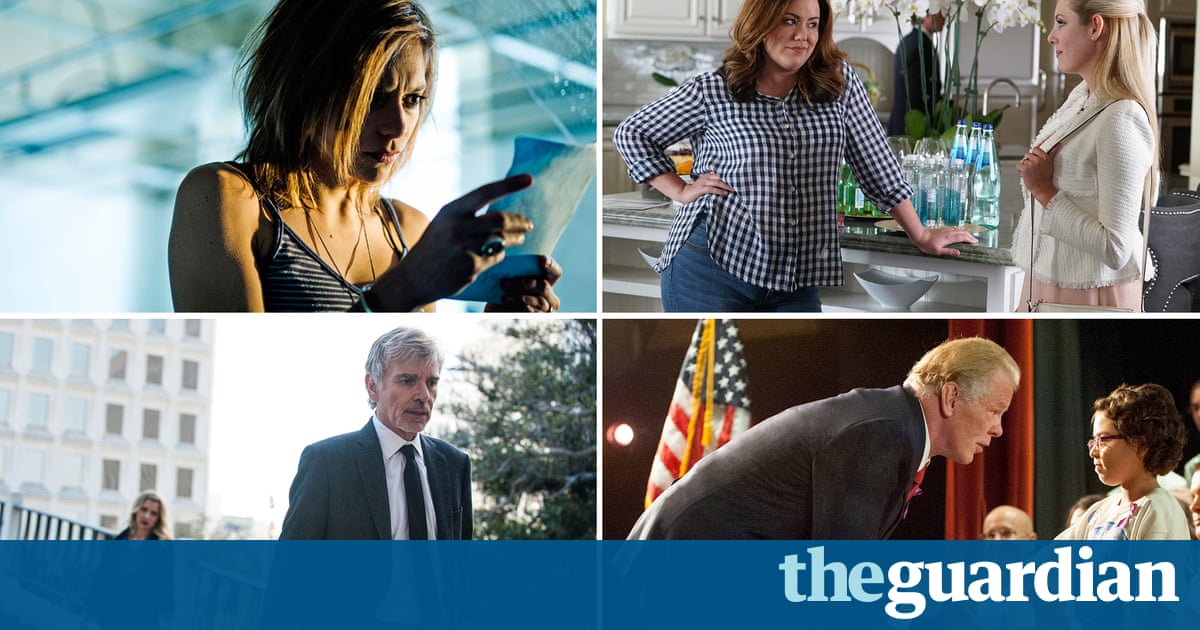 Premieres
When we think of the nightly news, we think of Tom Brokaw or some other white-haired dude reading about everything that is wrong with the world and ending with a sweet human interest story about a woman who gets arrested to cross it off her bucket list or some nonsense. Vice is trying to change all that, bringing the same globetrotting gonzo sensibility to the evening news that it does to its weekly program. Its still unclear exactly what the format is going to be, but there certainly wont be a Tom Brokaw type. HBO, Monday, 10 October at 7:30pm ET
ABC has been absolutely killing it lately with the funniest fun sitcoms around. The newest addition features Katie Otto (Katy Mixon) as the second-fattest housewife in a glam suburb of Connecticut where shes trying to make sure her daughter, who has obsessive-compulsive disorder, gets the help she needs and her two other children dont turn into awful preps who only wear Lululemon and drink green juice. This Tuesday also marks the return of the nights other shows on the all-star lineup, The Middle, Fresh Off the Boat, and The Real ONeals. ABC, Tuesday 11 October at 8.30pm ET
Nick Nolte plays a former conservative president, Richard Graves, who, several years into his retirement, realizes that he left the country in a better place than where he found it. He then goes on a tour of attrition trying to right the wrongs he made to the system. Right now everyone is more concerned with presidents future than past, but this could be just the comedy we need. Epix, Sunday 16 October at 10pm ET
New to Streaming
Amazon is known for putting its new dramas through pilot seasons, after which viewers get to vote on what should go to series. That didnt happen with this series from David E Kelley (Picket Fences, Ally McBeal, Boston Legal) about a drunkard of an ambulance chaser (Billy Bob Thornton) who gets sucked into a very complicated case that may or may not implicate his old white-shoe law firm and its dastardly leader (William Hurt) in some serious malfeasance. With such a killer roster of talent, its no wonder Amazon rushed at the chance to air this. Amazon, Friday 14 October
Miranda Sings is a comic genius, though only those who arent old enough to get a drivers license know about her. The creation of YouTuber Colleen Ballinger, Miranda is a hilariously clueless wannabe pop star who thinks that just by uploading covers of top 40 songs to YouTube shes going to become instantly famous. (Shes not wrong; she has 6 million subscribers.) This show follows a fictional account of how Miranda went from a suburban unknown to a suburban unknown who believes that shes a megastar. Netflix, Friday October 14
What to catch up on
It would be easy to call this show, about two questionably employed 20-something roommates in Sydney, the Australian Girls except, well, theyre both boys. Created by Josh Thomas and starring him and his real life best friend Thomas Ward, its a show about being lost after college and how sometimes self-absorbed people can find their way in the world. It deals with issues of mental health, when Joshs mother is sent to the asylum, and sexual orientation, as Josh comes out to his high school girlfriend and tries his hand at romancing the lads. The brilliant third season is now available, so viewers can binge the entire series. Dont worry, no matter how you feel about Girls, youll really like Please Like Me. Hulu, Tuesday 11 October
Around the web
If you want to sample USAs transformation from the land of blue sky procedurals into a home for edgy content a la Mr Robot, try out this new sci-fi thriller whose first episode is available online. Three unrelated people each realize that theyre having the same dream and it leads them to some shady organizations that are trying to control the world by controlling other peoples dreams. Its like Inception, but with 100% less Leonardo DiCaprio. For those whod rather watch on cable, the show premieres Thursday 13 October at 10pm ET on USA.
TV news
Portlandia takes on the mens rights movement
Is Westworld really just a western Game of Thrones?
TV is getting high on shows about pot
Read more: https://www.theguardian.com/tv-and-radio/2016/oct/10/best-tv-this-week-graves-goliath-american-housewife