Boris Johnson concedes UK will have to pay for Brexit
Foreign secretary says UK will meet legal obligations to pay divorce bill to EU, having previously said it could go whistle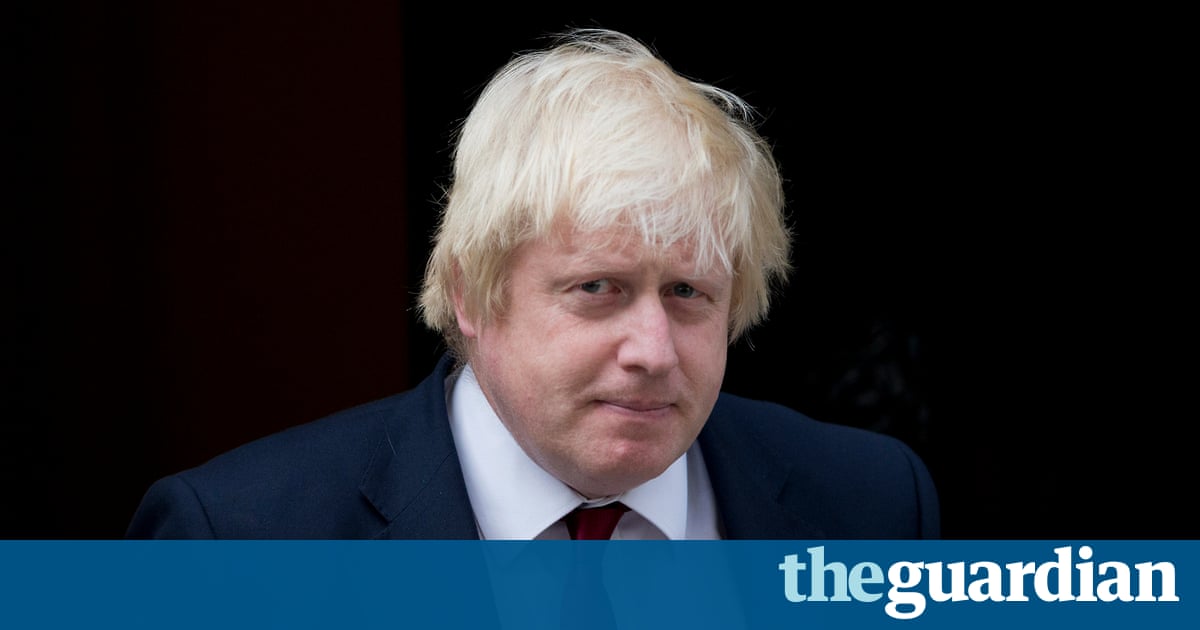 The UK will pay money to the EU as part of the Brexit process, Boris Johnson has conceded, having previously said the EU could go whistle over a reported bill of between 60bn and 100bn.
The issue of the divorce bill has split the pro-Brexit camp, with some leave supporters demanding that the UK decline to pay a penny, and Johnson told the Commons last month that a demand for 100bn (92bn) would be extortionate.
On Friday, the foreign secretary said he did not recognise that figure, but added: We will certainly have to meet our obligations.
Some of the sums that Ive seen seemed to be very high and, of course, we will meet our obligations, he told BBC Radio 4s Today programme. We are law-abiding, bill-paying people. The UK has contributed hundreds of billions over the years.
Im not saying that I accept [EU chief Brexit negotiator, Michel] Barniers interpretation of what our obligations are. But Im certainly saying that we have to meet our legal obligations as we understand them and thats what youd expect the British government to do.
Questioned about his comments last month, Johnson said: I think I was being asked then about some very large sums of money, I think 100bn euros or pounds, that the EU commission suggested we were on the hook for. Thats not a figure I recognise.
He declined to say what figure would be considered fair.
The EU is asking for money to cover spending commitments the UK has already made, as well as Brexit-related costs, including the pensions of staff dealing with the UKs departure.
Addressing Johnson in the Commons, the Eurosceptic Tory MP Philip Hollobone said: Since we joined the common market on 1 January 1973 until the day we leave, we will have given the EU and its predecessors, in todays money, in real terms, a total of 209bn. Will you make it clear to the EU that if they want a penny piece more then they can go whistle?
Johnson replied: Im sure that your words will have broken like a thunderclap over Brussels and they will pay attention to what you have said.
He makes a very valid point and I think that the sums that I have seen that they propose to demand from this country seem to me to be extortionate and I think to go whistle is an entirely appropriate expression.
After it emerged that significantly fewer students were overstaying their visas than the government had previously estimated, Johnson declined to say whether overseas student numbers should still be included in the governments net migration calculations.
The foreign secretary also dodged questions over a possible transition deal with the EU. He said the crucial thing is certainty and that UK businesses wanted to see speed and efficiency. But he did not give his view on the length of the transition period, noting that there are several transition periods that are envisaged in the governments proposals so far.
Johnson directly criticised the US president, Donald Trump, over his reaction to the far-right rally in Charlottesville, Virginia. One anti-fascist protester was killed and a suspected neo-Nazi has been charged with her murder.
Violence erupted at the demonstrations and Trumps initial reaction was to equate the actions of the extreme-right faction, which included neo-Nazi groups, with those of the anti-fascist counter-protesters.
After criticism of that stance from many in the US, who said no moral equivalence could be drawn between neo-Nazi and anti-fascist demonstrations, Trump directly condemned the extreme right. But, within hours, he made a third statement restating his original position, saying some among the extreme right were very fine people.
The prime minister, Theresa May, condemned the far-right groups in the immediate aftermath of Charlottesville, but did not name Trump in her criticism. Johnson, the UKs chief diplomat, went further on Friday. I thought [Trump] got it totally wrong and I thought it was a great shame that he failed to make a clear and fast distinction, which we all are able to make, between fascists and anti-fascists, between Nazis and anti-Nazis, he said.
Johnson also indicated that Trumps state visit to the UK was still due to go ahead and hinted that it was likely to take place in 2018.
The Lib Dems shadow foreign secretary, Jo Swinson, accused Johnson of being an apologist for Trump in order to secure a post-Brexit trade deal. It shouldnt have taken this long for the foreign secretary to criticise Donald Trump for his abhorrent defence of white supremacists in Charlottesville, she said, adding that the state visit should be called off.
Read more: https://www.theguardian.com/politics/2017/aug/25/boris-johnson-concedes-uk-will-have-to-pay-for-brexit